Sponsors & Charity Work
---
McGrath Foundation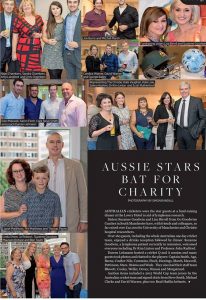 Through our connection with the Australian Cricket Team, many moons ago, in September 2006, a dinner was arranged by Suzanne to raise funds for the McGrath Foundation (a breast cancer support and education charity based in Australia). The founders of the McGrath foundation were Glenn and Jane McGrath (Glenn was known as the most economical and dangerous fast bowlers of his time) which was formed in 2005. The speakers at this dinner were Darren Lehmann (Boof) and Jason Gillespie (Dizzy), this was a questions and answers session held at Lancashire County Cricket Club and raised funds in excess of £20,000. This was something the Australian cricket team wanted to get behind and was the only charity event they were involved in, when visiting the UK. In 2007, Suzanne got a little ambitious, and also arranged a football game between sports 'celebs' and the Dream Team, ran by Tony Steenson. Suzanne's sports team included Glenn McGrath (who missed a penalty – it hit the top of the goal exactly in the centre), Darren Gough, Michael Bevan, Bryan Robson, Clayton Blackmore, Peter Reid, Geoff Goodwin, and many others, and the Dream Team consisted of Coronation Street, Emmerdale and HollyOaks actors which was followed by evening entertainment of a questions and answers session with Glenn McGrath and Bryan Robson with the impressionist Mike Osman, and far exceeded the funds raised the previous year.
This became a bi-annual dinner, whenever the 'Aussies' were in the UK and raised funds for different charities. All the team get behind Suzanne, who herself has suffered from an illness, and now funds are now raised for Lymphoma Research at the  Christie Hospital in Manchester. Indeed during her illness, Suzanne was still involved in the dinner which took place in September 2013, to raise funds for the HATS unit at the Christie hospital. The most recent dinner was held at the Lowry Hotel in September 2015 and was arranged by Suzanne and her sister Lisa, and raised over £12,000 for Lymphoma Research, this was a very open question and answer session with Darren Lehmann (Boof) and three players.
Watch this space for future events.
Sam Hyde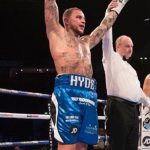 Go G VIP are also involved with a local talent, Sam 'NoWhere2' Hyde and have known Sam since he was 17 and Sam is now a professional boxer. Sam has had 12 pro fights, 11 wins, 1 draw, and is the Former Amateur ABA Champion, CYP Champion and Box Cup Gold Medalist. Follow Sam on Instagram Nowhere2hyde1.
Also, please find some of our charity pictures in the gallery below.